Solutions
Combined automated PCR and NGS workflows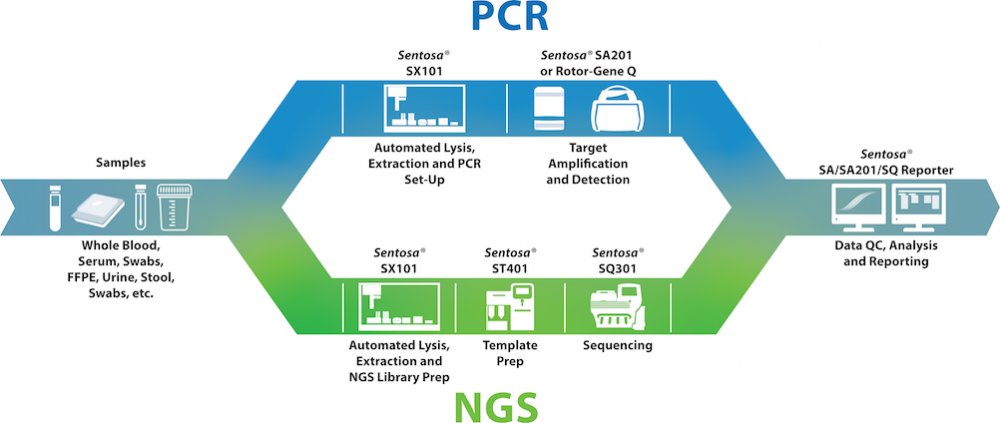 With automated solutions for both real-time PCR (qPCR) and Next-Generation Sequencing (NGS) workflows using common instrumentation, Vela Diagnostics challenges convention to meet different customer demands.
Vela Diagnostics uniquely combines qPCR with NGS workflows to provide laboratories with increased efficiency and effectiveness. With RNA and DNA extraction, qPCR assays that detect a wide variety of viruses and gene mutations, and NGS solutions* for identifying viral genotypes and sequence variants, Vela Diagnostics helps drive scientific discoveries today for improvements tomorrow.
Providing Laboratory Efficiency
The Sentosa system from Vela Diagnostics provides standardized versatility from sample input to result upload. The multipurpose Sentosa SX101 performs automated lysis, nucleic acid extraction and PCR set-up on a wide range of sample types; it can also be used for NGS library preparation. Using shared instrumentation, customers can enjoy the flexibility of harnessing either or both technologies in research areas that require comprehensive testing, to accurately and efficiently provide test results. With open-channel capabilities, laboratories can also run user-defined protocols.
The option of generating concise reports using Sentosa Reporter for qPCR and NGS results is readily available.
The Vela Diagnostics qPCR and NGS workflows maximize efficiency by:
Automating processes from sample to result
Combining detection of common targets in the same run
Requiring minimal sample input volume
Reducing time to result and automated reporting
* products in development
Increasing Cost Effectiveness
Laboratories can cost-effectively generate accurate, reliable results with qPCR and NGS solutions from Vela Diagnostics.
The utilization of common instrumentation across both qPCR and NGS technologies reduces equipment and service costs, as well as minimizes footprint. Automated workflows mean less dependence on hands-on time, freeing personnel for more value-added tasks.
Vela Diagnostics developed a test portfolio that minimizes costs associated with generating results. The ability to run multiple tests on the same platform, running tests in parallel in the same run, and testing for several targets in the same eluate are all ways Vela Diagnostics helps laboratories gain economic efficiencies.